EPDM Rubber Flat Roofing Liverpool
All aspects of roof repairs covered by our expert roofers in Liverpool. From Emergency Roof Repair Works, Storm Damage Repairs, General Wear & Tear Repairs, Roof Maintenance and complete Roof Renewals.
If you are suffering from a badly installed flat roof, or your existing roof has simply seen better days, our experienced roofing team in Liverpool can help, installing a seamless rubber roof that will last for a long period of time.
Our team can be called out at a moment's notice and will aim to get to you as soon as possible for any repairs that might be needed.  We always aim to give out customers multiple options in terms of the correct course of action as well as comprehensive advice regarding the next steps to take.
EPDM rubber flat roofs are becoming increasingly popular due to their long life expectancy and durability, proving to be a reliable and cost-effective solution for property owners in Liverpool.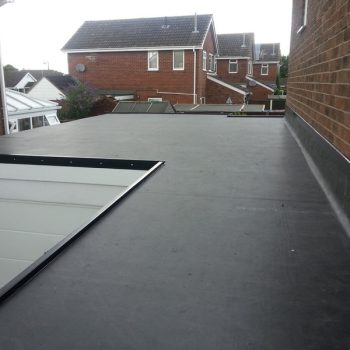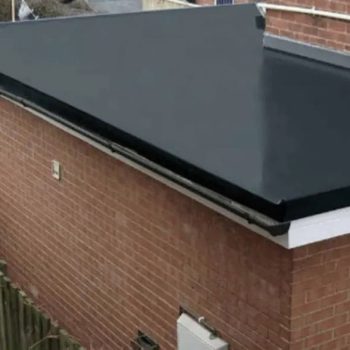 Types Of EPDM Rubber Roofing
Installations
At Leak Proof Roofing Services Liverpool we pride ourselves on the extensive list of services that we provide for EDPM rubber flat roofing and EDPM rubber roof renewals in Liverpool.  Here are some of the flat roofing services that we provide for our Liverpool customers:
Firestone EPDM Rubber
At Leak Proof roofing we work exclusively with Firestone EPDM rubber roofing products.  Firestone roofing products are some of the best and most trusted on the market, producing EPDM rubber membranes that have life expectancies of over fifty years and that do not require a flame to be installed. 
Working in a trusted partnership with Firestone brings further peace of mind to homeowners, as they are a highly trustworthy company dedicated to bringing amazing roofing services to those in the local area.
Benefits Of EPDM Rubber Flat Roofs
There are so many reasons why EPDM rubber flat roofing is a brilliant option for your Liverpool home:
You do not need to pay to maintain it – once we have installed your rubber roof, it is maintenance-free.

 

This makes it hugely cost effective and gives you peace of mind that you won't need to pay for costly repairs.
100% waterproof roofing, meaning you do not have to worry about unexpected leaks or damage to your property.
No danger of rot or damage by frost, which in turn protects the rest of the building's structure
Long-lasting; once we instal your roof we predict it will have a lifespan of over forty years.
Lasts well in extreme temperatures – no melting or frost damage.
A Company You Can Rely On
Here at Leak Proof Roofing, we make it our utmost priority to ensure that you have the very best in terms of rubber flat roofing installation, maintenance and repairs services.  We pride ourselves on being reliable, helping our customers as and when they need us.  Our expert rubber flat roofing team are knowledgeable about every single aspect of roofing installation and maintenance, so you can rest easy knowing that it's in the hands of the experts.
Not only are our team experts, but we also go above and beyond in every other aspect of the job to ensure maximum customer satisfaction.  We want you to be as happy with our service as we are to provide it, which is why as well as doing an excellent job, our team are also respectful, friendly and tidy as well.  
How Our Dedicated Roof Repair Experts Can Help You
All aspects of roofing repairs and new installations covered.
We will provide our customers with a free quote, which is attached to no obligations for taking the process further
We provide a

 

guarantee with all of the services that we provide
We offer unbeatable prices for guttering and gutter repair services in Liverpool
Our team is knowledgeable and professional, executing tasks to only the highest of standards
Our goal is to maintain and fix your gutters once only, so that you do not need to keep paying for maintenance.
Do you need help? Call us to repair or replace your flat roof today. We will offer you a free, no-obligation quote as well as advice on how to proceed. Call 0151 374 0415
Do You Require A Free Quote?
Our highly skilled and qualified team at Leak Proof are experts in installing rubber flat roofing solutions, as well as maintaining and repairing them too.  Our team are able to carry out rubber flat roof installations that will give you a long-lasting, durable solution.
To find out about our team coming to install a brand new fibreglass roof on your Liverpool property, simply get in touch with our team today.  No matter where in the Liverpool area you are, we will send out a member of our team to inspect your roof and measure it at no cost to you, before providing an entirely free, no-obligation quote for the installation of your flat rubber roof in Liverpool.
" Professional and friendly team would 100% recommend, they had someone here 30 minutes after I had called them. Job was done to an excellent standard, will definitely be using again. Thank you for the brilliant service! "
" Very professional and beat a couple of other quotes I'd been given . Left the job very clean and tidy . I checked the work and could see it had been done to a very high standard. I would highly recommend this company and would use again. "
Other Roofing Services We Provide
All aspects of roofing repairs and new installations covered.