Fascia Board and Soffit Installation in Liverpool & Surrounding Areas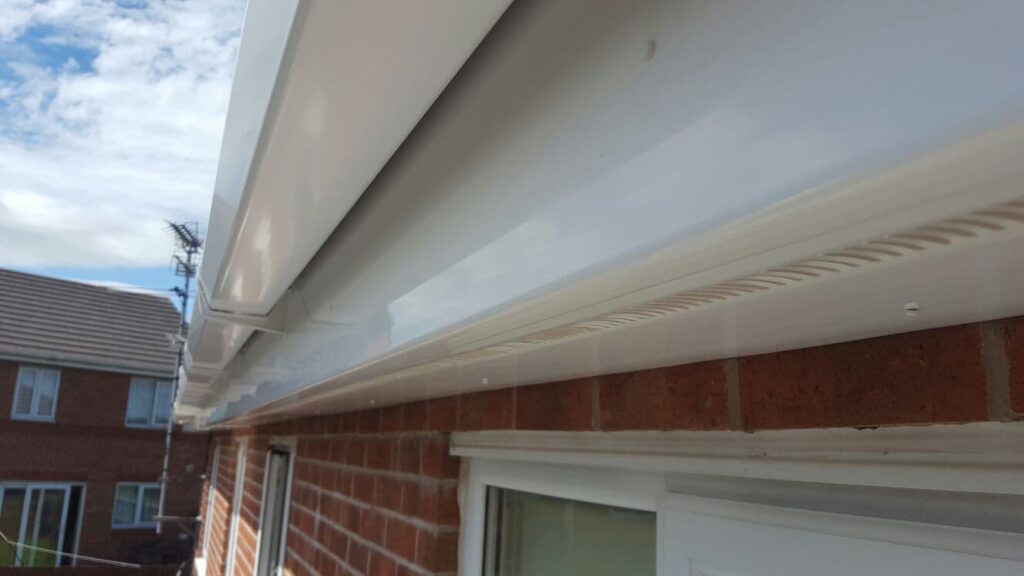 We provide top quality and flawlessly installed rooflines to properties all around Liverpool, which will contribute to the structure and secureness of your property, as well as improving the aesthetics of the outer structure.  Investing in such installations can also increase the value of your Liverpool home, so you can sell for more!
However, in order for you to reap the many benefits of having fascias on your Liverpool property, it is essential that the installations are done by a team who really know what they're doing!  This is exactly the kind of service we provide at Leak Proof Roofing.
We want to ensure that your Liverpool home does not lose its value due to old cladding which can be unsightly and off putting.  Our team will renew the exteriors of your property with the best quality uPVC fascia boards in the colour of your choosing, at a great price.
Types of UPVC Fascia Boards & Soffits Works
Here at Leak Proof roofing, we offer various different services relating to uPVC fascia boards and soffits works.  Our expert team can supply, fit, repair or replace your fascias and soffits so that they remain long-wearing and match the rest of your home.
It is important that if the exteriors of your home are outdated that you get them serviced or replaced as soon as you can.  Old and outdated fascia boards and soffits can not only make your property look worn down and unsightly, but also cause other problems such as pests nesting, verge damage and more.
Benefits Of Low Maintenance uPVC
uPVC fascia boards have become the most popular to use in Liverpool, due to the fact that they are durable and long-lasting.  Older, wooden fascias may have been popular in the past, but are now on the out due to the fact that they rot very easily and require repainting on a regular basis.  Overall, the cost of wooden fascia boards ends up being high because of its regular maintenance needs.
On the other hand, the uPVC boards that are offered by Leak Proof Roofing in Liverpool are the opposite.  Our plastic boards and highly durable and last for a very long time without any maintenance at all, as they do not rot and do not need painted.
The only maintenance required of uPVC boards is the occasional clean, but this is only needed after several years.
A Company You Can Rely On
Here at Leak Proof Roofing we make it our utmost priority to ensure that you have the very best in terms of uPVC fascia boards and soffits.  We pride ourselves on being reliable, helping our customers as and when they need us.  Our expert fascia and soffits repair and installation team are knowledgeable about every single aspect of fascia and soffit repair and maintenance, so you can rest easy knowing that it's in the hands of the experts.
Not only are our team experts, but we also go above and beyond in every other aspect of the job to ensure maximum customer satisfaction.  We want you to be as happy with our service as we are to provide it, which is why as well as doing an excellent job, our team are also respectful, friendly and tidy as well.  
How Our Dedicated Roof Repair Experts Can Help You
Our priority is ensuring that our customers are 100% satisfied with our fascia and soffit repair, maintenance and installation services, which is why we offer a guarantee:
We will provide our customers with a free quote, which is attached to no obligations for taking the process further
We will send someone out within 24 hours
We provide a guarantee with all of the services that we provide
We offer unbeatable prices for fascia and soffit maintenance and repair services in Liverpool, as well as the initial installation
Our team is knowledgeable and professional, executing tasks to only the highest of standards
Our goal is to maintain and fix your fascia and soffits once only, so that you do not need to keep paying for maintenance.
Do you need help? Call us to repair, clean or replace your Fascia Boards & Soffit Boards today. We will offer you a free, no-obligation quote as well as advice on how to proceed. Call 0151 374 0415
Do you need help? Call us to repair, replace or maintain your fascia boards and soffit boards on 0151 374 0415
" Professional and friendly team would 100% recommend, they had someone here 30 minutes after I had called them. Job was done to an excellent standard, will definitely be using again. Thank you for the brilliant service! "
" Very professional and beat a couple of other quotes I'd been given . Left the job very clean and tidy . I checked the work and could see it had been done to a very high standard. I would highly recommend this company and would use again. "
Other Roofing Services We Provide
All aspects of roofing repairs and new installations covered.