5 Star Guttering Repairs & Replacements Liverpool 
All aspects of roof repairs covered by our expert roofers in Liverpool. From Emergency Roof Repair Works, Storm Damage Repairs, General Wear & Tear Repairs, Roof Maintenance and complete Roof Renewals.
At Leak Proof Roofing we are dedicated to helping you maintain and fix your gutters so that they are operating at the best possible standard.  We are proud to provide a service of only the highest quality for all of our customers in and around Liverpool with their gutter maintenance and gutter repair needs.
The satisfaction of our customers is always our top priority here at Leak Proof Roofing, and so we will work hard to ensure that you are completely happy with the service that we are providing.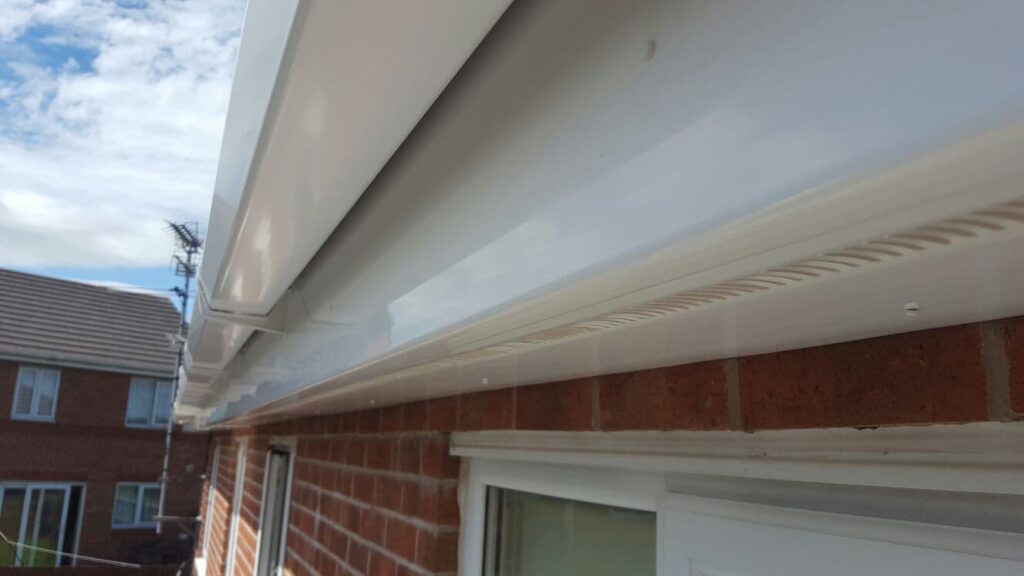 Why Choose Us for your Guttering in Liverpool
We are the experts in guttering in Liverpool, and no one else in the business has the knowledge that we do. Every single member of our dedicated team is experienced and knowledgeable about every aspect of guttering, and will work to achieve the highest possible standard for your home.
Our priority is ensuring that our customers are 100% satisfied with our guttering services, which is why we offer a guarantee on all works which we complete:
Our Guttering Services in Liverpool
Guttering is absolutely essential in the maintenance and general health of your property. Gutters are responsible for taking rainwater down the pipes so that it does not come into too much contact with your property, which can cause major damage.
In order to preserve the quality and health of your property, it is crucial that you not only have guttering but that it is of the highest quality too.
We repair guttering in Liverpool that has become damaged or subject to general wear and tear, so that you can avoid suffering larger problems with the structure of your property later down the line. If needed, we are also able to entirely replace guttering in Liverpool so that you are left with only the best functionality available.
How Our Dedicated Roof Repair Experts Can Help You
All aspects of roofing repairs and new installations covered.
We will provide our customers with a free quote, which is attached to no obligations for taking the process further
We provide a

 

guarantee with all of the services that we provide
We offer unbeatable prices for guttering and gutter repair services in Liverpool
Our team is knowledgeable and professional, executing tasks to only the highest of standards
Our goal is to maintain and fix your gutters once only, so that you do not need to keep paying for maintenance.
Do you need help? Call us to repair or clean your gutters today. We will offer you a free, no-obligation quote as well as advice on how to proceed. Call 0151 374 0415
Causes Of Leaking Gutters
Leaking gutter can cause moisture to seep through the structure of your house and cause serious damage, which can be extremely costly and time-consuming to fix later down the line.  Prevent this issue by reporting your leaking gutter immediately.
Damages in gutters usually show in the following ways: leaking, sagging, pooling runoff and overflowing.  Most often, this is caused by clogging in the gutter which is why it is essential to remove natural debris from the gutter regularly.  Issues can also be caused by wear and tear, such as holes or gaps in the gutter.  If you notice any of the four signs of gutter damage, it is essential to seek help immediately to ensure that no further damage to the property occurs.
For gutter maintenance, you can also give us a call and we will be happy to help you by removing any debris that may be clogging the gutter and causing some of the issues stated above.
" Professional and friendly team would 100% recommend, they had someone here 30 minutes after I had called them. Job was done to an excellent standard, will definitely be using again. Thank you for the brilliant service! "
" Very professional and beat a couple of other quotes I'd been given . Left the job very clean and tidy . I checked the work and could see it had been done to a very high standard. I would highly recommend this company and would use again. "
Other Roofing Services We Provide
All aspects of roofing repairs and new installations covered.