Roof Restoration Lead Welding Experts in Liverpool
Lead is one of the most sustainable building materials on the market, and its durability and long-lasting nature are what also makes it one of the best value-for-money roofing solutions as well.  Lead will outlast almost all of its alternatives, with a lifespan of up to 100 years, which more than makes up for the slightly more expensive upfront cost.
For leadwork to be done correctly and to a high enough standard, it must be undertaken by experienced professionals who are qualified to do the work.  If you are looking into leadwork services, it is vital that you choose a company and team members who are entirely qualified to do the work as well as being insurance backed and with all of the relevant guarantees. 
Here at Leak Proof, we will only send technicians who are approved lead specialists, using reliable installation techniques and installing only to the top standards.  We also only use the best quality supplies from the most trusted suppliers, to make sure that you are able to reap the many benefits that lead offers.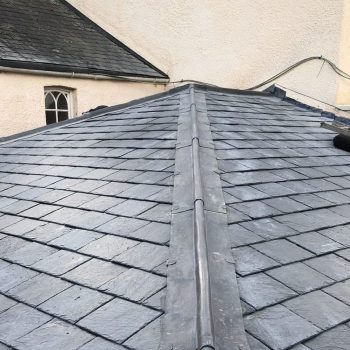 Lead Welding Works We complete
Here at Leak Proof Roofing, we are able to undertake a wide variety of specialised leadwork that includes, but is not limited to:
When is lead welding required?
Lead can be used for a whole range of different roofing requirements due to its amazing flexibility and low melting point.  When installed correctly, it is one of the most effective roofing installation solutions on the market.
Lead can be used to provide an effective seal where there is a join between two surfaces on any roof.  Once the join has been sealed using lead, a water-tight layer is formed that will protect your roof against the elements and keep your property safe.
Lead can also be used to cover guttering as well, acting to make any roof 100% leak proof, just like our name suggests!
Why use lead?
There are so many reasons why we recommend using lead for various different parts of your property, but here are some of the key ones:
The carbon footprint of lead materials in comparison with other hard metals is very low, so in terms of choosing an environmentally friendly option, it is hard to do better than lead!

 

Lead has one of the longest lifespans of any building materials, and can last anywhere between 60 and 100 years, this makes it a highly cost-effective option as well, as maintenance and repairs are minimal
Lead is a highly flexible material, meaning that it can cover almost any shape whilst still ensuring an effective coverage.

 

This means that it can be used for a huge variety of different purposes as well.
Lead is 100% recyclable, once again making it a hugely environmentally friendly option in terms of building materials for a given property.
The material is one of the best in terms of value for money on the entire market, and is hard to beat for cost due to its high levels of durability.

 

Over the course of 40 years, lead is 50% cheaper than other alternatives, and over 65 years it is 100% cheaper.
How Our Dedicated Roof Repair Experts Can Help You
Our expert roofing team are able to help you with any lead work requirements that you may have.  We believe that there are many reasons why you should choose our team of highly experienced professionals to perform leadwork on your property:
Roof repairs, cleans and even full renewals are all fully guaranteed when you choose our roofing services
We will always advise on the best course of action for you to take according to your needs, including giving multiple options for how to proceed if possible
We always call out fast, aiming to be with you within 24 hours and even faster in emergency situations
We offer expert workmanship on every single job; our team are all highly trained and experienced, and we never compromise on the quality of the work that we do.
We offer general maintenance and repairs on all jobs
We are a local, family-run business offering fast and efficient service, and always prioritising great customer service as well as high-quality work!
Do you need help? Call us to repair or replace your Lead work today. We will offer you a free, no-obligation quote as well as advice on how to proceed. Call 0151 374 0415
Do you require a free estimate?
If you are in need of leadwork services for your roof, please do not hesitate to get in touch with Leak Proof Roofing today.  We will be happy to offer you a completely free no-obligation quote as well as a consultation where an experienced team member will offer advice on the best course of action to proceed.
" Professional and friendly team would 100% recommend, they had someone here 30 minutes after I had called them. Job was done to an excellent standard, will definitely be using again. Thank you for the brilliant service! "
" Very professional and beat a couple of other quotes I'd been given . Left the job very clean and tidy . I checked the work and could see it had been done to a very high standard. I would highly recommend this company and would use again. "
Other Roofing Services We Provide
All aspects of roofing repairs and new installations covered.