Tile/Slate Repairs and Renewals in Liverpool & Surrounding Areas
All aspects of roof repairs covered by our expert roofers in Liverpool. From Emergency Roof Repair Works, Storm Damage Repairs, General Wear & Tear Repairs, Roof Maintenance and complete Roof Renewals.
An unfortunate truth about tile and slate roofs in Liverpool is that they suffer much wear and tear and are subject to harsh weather conditions over long periods of time.  Some tiles can be broken off by harsh winds, or sometimes they can be dislodged by moss growth which can lead to leaks.  These are only a couple of the many ways in which tile and slate roofs can be damaged, and it's important that if you do notice any damage, no matter how small, you report it and seek help immediately.
Our tile and slate roofing experts in Liverpool are professionals with extensive knowledge on how to effectively repair your roof.  Not only does our team come to your property quickly and fix the problem, but they come up with effective solutions to ensure that the issue does not occur again.  Our team never delivers anything but the best; our priority is offering every single one of our customers the highest quality of service available for tile and slate roof repairs in Liverpool.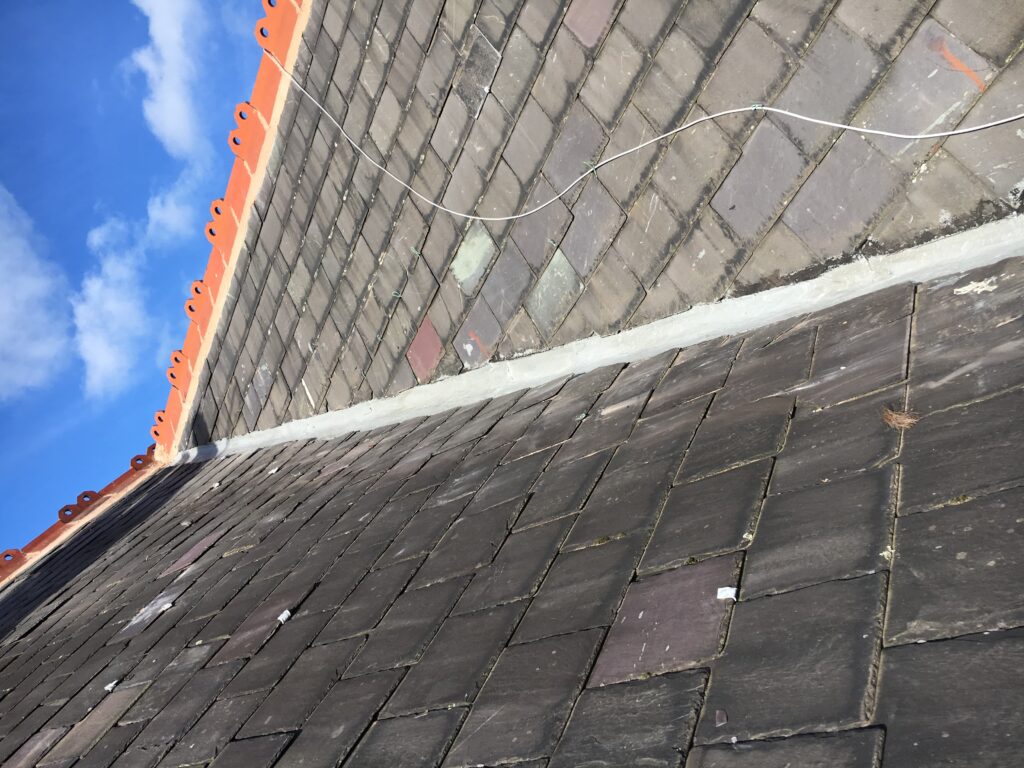 Our Tile & Slate Roofing Services
We offer a number of different services to our customers in Liverpool relating to tile and slate roof repairs, including:
A Company You Can Rely On
Here at Leak Proof Roofing we make it our utmost priority to ensure that you don't have to be concerned about breakages and leaks in your slate or tile roof.  We pride ourselves on being reliable, helping our customers as and when they need us.  Our our slate and tile roof repair team based in Liverpool are knowledgable about every single aspect of roof repairs and maintenance, so you can rest easy knowing that its in the hands of the experts.
Not only are our team experts, but we also go above and beyond in every other aspect of the job to ensure maximum customer satisfaction.  We want you to be as happy with our service as we are to provide it, which is why as well as doing an excellent job, our team are also respectful, friendly and tidy as well.  
Above all, we are here for our customers.  This means that we will strive in every instance to make repairs to your slate or tile roof, and will only recommend a replacement when it is absolutely necessary.  We will help to advise the best course of action and give multiple options in every case if possible.
How Our Dedicated Roof Repair Experts Can Help You
All aspects of roofing repairs and new installations covered.
Our priority is ensuring that our customers are 100% satisfied with our slate or tile roof repair and maintenance services, which is why we offer a guarantee:
We will provide our customers with a free quote, which is attached to no obligations for taking the process further
We will send someone out within 24 hours
We provide a guarantee with all of the services that we provide
We offer unbeatable prices for slate and tile roof maintenance and repair services in Liverpool
Our team is knowledgeable and professional, executing tasks to only the highest of standards
Our goal is to maintain and fix your slate/tile roof once only, so that you do not need to keep paying for maintenance.
Do you need help? Call us to repair or renew your tile/slate roof today. We will offer you a free, no-obligation quote as well as advice on how to proceed. Call 0151 374 0415
Maintaining Your Tile or Slate Roof
The best way in which you can maintain the health of your slate or tile roof is by reporting damage as soon as you notice it.  In many cases, roof leaks can be a product of your guttering being damaged, which allows liquid to seep into the building when water pools or the gutter gets clogged.  To ensure that there is minimal damage to your roof, look out for problems with your guttering as well as loose slates and tiles on the roof itself.
If you do notice any kind of damage to your slate or tile roof, it is crucial that you report it right away so that the necessary repairs can be made.  Leak Proof Roofing will always send a team out fast to diagnose the problem and fix it before it gets any worse.  
Failure to report and fix minor damages to your roof can lead to bigger problems down the line, costing you more money or potentially even requiring an entire roof repair, which is incredibly costly and time-consuming.
" Professional and friendly team would 100% recommend, they had someone here 30 minutes after I had called them. Job was done to an excellent standard, will definitely be using again. Thank you for the brilliant service! "
" Very professional and beat a couple of other quotes I'd been given . Left the job very clean and tidy . I checked the work and could see it had been done to a very high standard. I would highly recommend this company and would use again. "
Other Roofing Services We Provide
All aspects of roofing repairs and new installations covered.