Liquid Rubber Flat Roofing Liverpool
All aspects of roof repairs covered by our expert roofers in Liverpool. From Emergency Roof Repair Works, Storm Damage Repairs, General Wear & Tear Repairs, Roof Maintenance and complete Roof Renewals.
Cold applied liquid roofing is a flexible and versatile technique that our team uses as a way of making a roof waterproof, without using heat.  This application provides an entirely seamless roof membrane that will prevent your roof from becoming damaged over time and needing repairs.  These roofing systems use polyurethane, acrylic, or other polymers to create a waterproof seal that will protect the roof.
Liquid roofing can be applied to numerous different materials such as felt, concrete and metal as well as many more.  Flat and pitched roofs alike can benefit from this highly protective layer.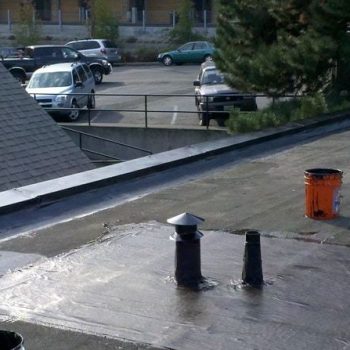 Typical Liquid Rubber Roofing Applications
Here at Leak Proof we are proud to offer many different services relating to liquid rubber roofing in Liverpool.  No matter what you need from our services, we are able to provide.
Guttering and gully maintenance; we are able to repair leaking gullies by resealing them seamlessly to ensure that no more water can get through.
Roof maintenance; we are able to use rubber roofing solutions to add to roof maintenance and prevent repairs being needed in the future.
Metal roof sheets; these can become shrunken and begin to let water in.

 

If this happens then we are able to remove the sheets and entire recover the roof.
Flat roofing; including balconies, garages, commercial roof spaces, factories and all other flat roofing applications
One seal solutions; this is perfect for if you have a rooftop garden or need to be able to walk across a flat roof for any reason
Cold applications; there is no flame required for these types of applications.

 
How Our Dedicated Roofing Experts Can Help You
Our team of specialists are experts on all things to do with flat roofing in Liverpool, and are approved installers of many different liquid coated roofing systems. We call out fast, and will provide a free no-obligation quote to all prospective customers which will remain accurate right to the end of the project.
The great thing about this kind of flat roofing application is that there are no fixtures or fittings that will compromise the finish, meaning that it provides a comprehensive waterproofing system for any kind of flat roof. 
Our team are knowledgeable and are able to answer any questions you may have about the application of this kind of roofing; we are dedicated to providing excellent customer service from beginning to end.  This means much more than simply doing a good job from a roofing point of view; our team will also be friendly, respectful of your space, and will always leave it exactly as it was found.
Benefits Of Liquid Rubber On Residential Or Commericial Flat Roofs
There are so many benefits of using a liquid system for your flat roof, and reasons why you should get in touch with Leak Proof to arrange your installation:
It provides an entirely seamless membrane over the roof, protecting it from things that might normally damage it
It is able to cope with highly complex detailing that can be found on roofs, such as pipe penetrations, upstands and gutters
It is very easy to maintain, therefore saving you money long term as it will not break down in harsh weather conditions.
Highly water repellant as soon as it is applied, protecting your roof and the entire structure of your property
They can be installed year-round, as long as the temperature outdoors is higher than one degree celsius
They are incredibly strong and hard-wearing, so you won't have to worry about extensive repairs, maintenance or leaks.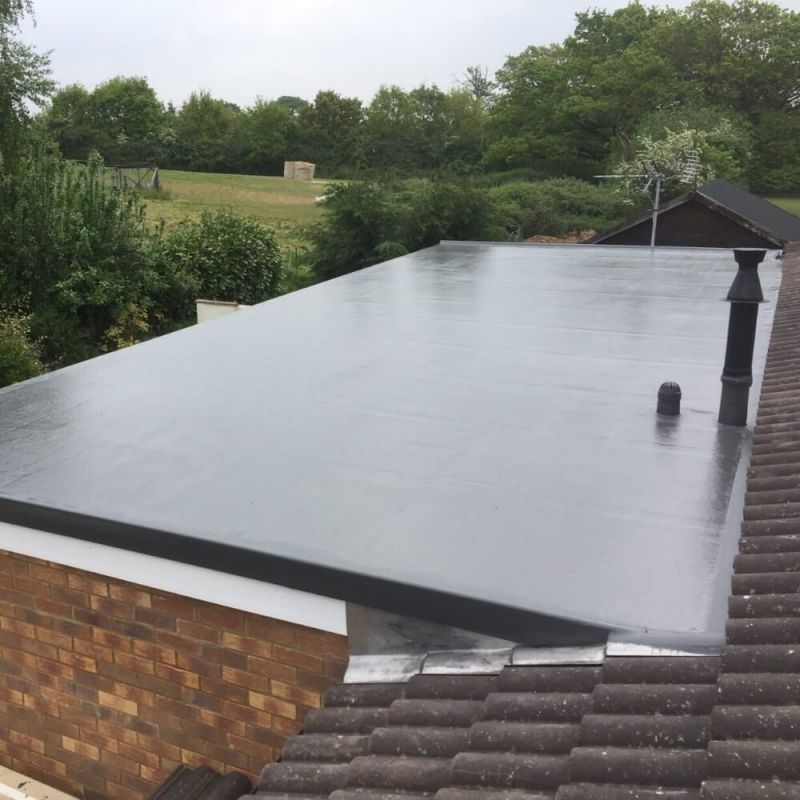 Commercial Applications
We are also able to apply liquid rubber roofing to commercial properties as well.  A commercial property includes but is not limited to:
Offices
Schools
Factories
Units
Warehouses
Developmental properties
Apartment blocks
How Our Dedicated Roof Repair Experts Can Help You
All aspects of roofing repairs and new installations covered.
We will provide our customers with a free quote, which is attached to no obligations for taking the process further
We provide a

 

guarantee with all of the services that we provide
We offer unbeatable prices for guttering and gutter repair services in Liverpool
Our team is knowledgeable and professional, executing tasks to only the highest of standards
Our goal is to maintain and fix your gutters once only, so that you do not need to keep paying for maintenance.
Do you need help? Call us to repair or replace your flat roof today. We will offer you a free, no-obligation quote as well as advice on how to proceed. Call 0151 374 0415
Call Us To Repair Or Replace Your Roof Today
Are you interested in our liquid rubber roofing services for your Liverpool property?  Call us at Leak Proof today to receive your free, no-obligation quote and we will send out a member of our team to inspect the premises, so that we can advise you on the best way to move froward with the installation.
" Professional and friendly team would 100% recommend, they had someone here 30 minutes after I had called them. Job was done to an excellent standard, will definitely be using again. Thank you for the brilliant service! "
" Very professional and beat a couple of other quotes I'd been given . Left the job very clean and tidy . I checked the work and could see it had been done to a very high standard. I would highly recommend this company and would use again. "
Other Roofing Services We Provide
All aspects of roofing repairs and new installations covered.