New Roof Replacements Liverpool – All Work Guaranteed
All aspects of roof repairs covered by our expert roofers in Liverpool. From Emergency Roof Repair Works, Storm Damage Repairs, General Wear & Tear Repairs, Roof Maintenance and complete Roof Renewals.
Leak Proof Roofing in Liverpool is a professional roofing company that specialises in installing and replacing new roofs, delivering both great quality services and finished products that look great.  We are able to provide all of our clients with a fast callout and a free no-obligation quote when they get in touch with our Liverpool team.
We are proud to offer new, innovative solutions to new roof installation which will save you time and money in the long run.  Our expert team work to install roofs that do not require frequent maintenance and last upwards of 25 years.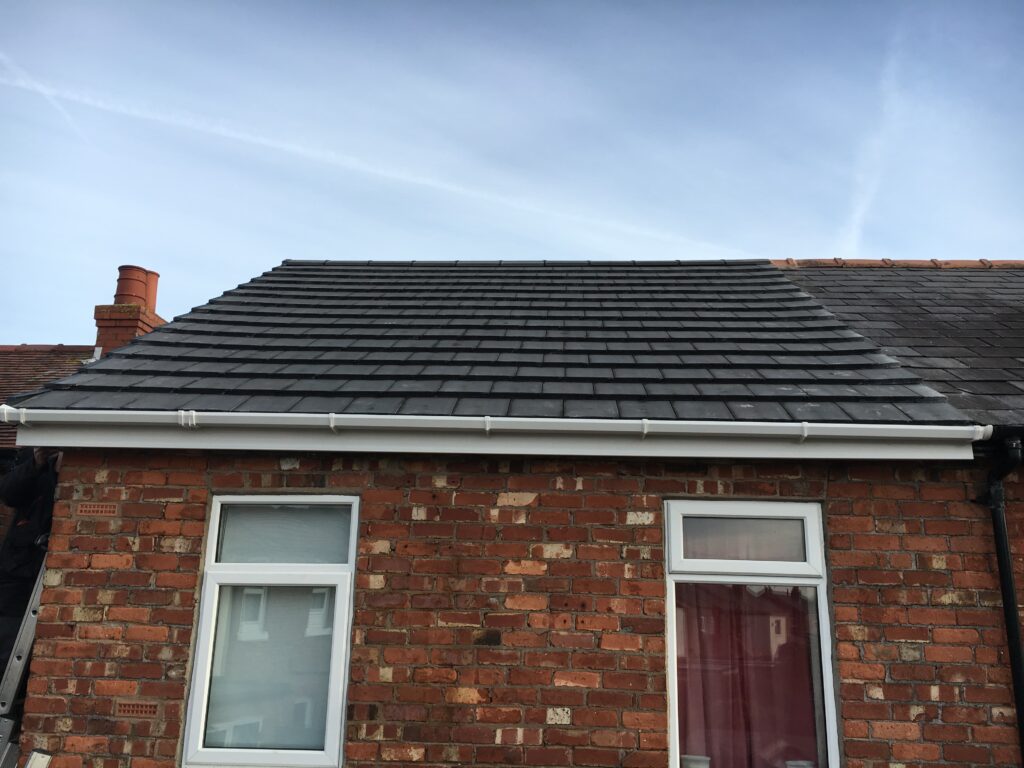 Types of Roof Renewal Works
Leak Proof Roofing is a Liverpool-based company offering a wide variety of services that relate to roofing, including the installation, replacement and maintenance of the following:
Add value to your home
Leak Proof Roofing is proud to provide roofing services that require as little maintenance as possible, due to the high quality of the work that we do.  We use what we call 'maintenance-free solutions' when installing new roofs in the Liverpool area.  We do this by using solutions such as dry fix ridges which do not require mortar, meaning that they do not require frequent repointing, unlike older or more traditional approaches.  Our innovative and forward-thinking solutions will save you both time and money in the long run.
Further, we guarantee to all customers that the new roof will last at least 25 years, given that the weather conditions remain normal.  This shows how much money you can save when you have your roof installed by the experts.
Adding a new roof to your property can increase its value by anything from £5000 to £15000 when selling, which simply makes this investment all the more worthwhile.
A company you can rely on
Here at Leak Proof Roofing, we make it our utmost priority to ensure that you don't have to be concerned about the state of your new roof.  We pride ourselves on being reliable, helping our customers as and when they need us.  Our expert new roof installation and repair team are knowledgeable about every single aspect of new roof installation, repair and maintenance, so you can rest easy knowing that it's in the hands of the experts.
Not only are our team experts, but we also go above and beyond in every other aspect of the job to ensure maximum customer satisfaction.  We want you to be as happy with our service as we are to provide it, which is why as well as doing an excellent job, our team are also respectful, friendly and tidy as well.  
How Our Dedicated Roof Repair Experts Can Help You
Our priority is ensuring that our customers are 100% satisfied with our new roof installation, repair and maintenance services, which is why we offer a guarantee:
We will provide our customers with a free quote, which is attached to no obligations for taking the process further
We will send someone out within 24 hours
We provide a guarantee with all of the services that we provide
We offer unbeatable prices for new roof installation and new roof repair services in Liverpool
Our team is knowledgeable and professional, executing tasks to only the highest of standards
Our goal is to install or fix your new roof once only, so that you do not need to keep paying for maintenance.
Do you need help? Call us to replace your roof today. We will offer you a free, no-obligation quote as well as advice on how to proceed. Call 0151 374 0415
Call us to measure up and offer a free quote
Call us out today so that we can measure your property and offer you a quote for the service that you require – this process is totally free and there are no obligations to take the process further. Call us on 0151 374 0415 today.
" Professional and friendly team would 100% recommend, they had someone here 30 minutes after I had called them. Job was done to an excellent standard, will definitely be using again. Thank you for the brilliant service! "
" Very professional and beat a couple of other quotes I'd been given . Left the job very clean and tidy . I checked the work and could see it had been done to a very high standard. I would highly recommend this company and would use again. "
Other Roofing Services We Provide
All aspects of roofing repairs and new installations covered.