Velux Windows Installers Liverpool
All aspects of roof repairs covered by our expert roofers in Liverpool. From Emergency Roof Repair Works, Storm Damage Repairs, General Wear & Tear Repairs, Roof Maintenance and complete Roof Renewals.
If you are considering bringing some additional light into your home and want to brighten up some of your rooms, we are the best that Liverpool has to offer.  We install Velux windows in Liverpool and the surrounding areas, using a brand that we know customers trust and can rely on, as well as having a team of only the most experienced and knowledgable joiners to install them.
Enjoy the sun coming in during the morning, or watch the stars from inside your home in the evening with a stunning skylight, coming in a range of colours and finishes, so you can match it to your home!  Leak Proof will handle every aspect of the installation process, from supplying and fitting the framework and skylight to the internal works that follow such as plastering. 
Installations Of Velux Windows & Roof Lights
We believe in carrying out maintenance-free installations, always installing Velux windows and skylights in Liverpool to the highest possible standards, so that you won't be faced with costly repairs and maintenance charges further down the line.
Get in touch with Leak Proof for your skylight and window needs, and we will send out a trained technician to install it for you. 
We also offer a range of colours: white, grey or black for external frames as well as the option of an oak finish for the internal frame.  This means you can carefully choose the aesthetic of the new window to match your current home decorations. 
We install windows and skylights to the following:
Benefits Of Velux Windows & Roof Lights
There are so many reasons why adding a Velux window or skylight to your home is a great idea, and why you should consider getting in touch with our team today for your free quote.
Skylights add a lot of extra natural light to a room, so if there is a room in your property where you struggle to get enough natural light, a skylight is a great option for you.
They can be an excellent source of solar heating as the sun shines right through the glass and heats up the room.

 

This can cut your energy costs significantly in the winter, so a skylight is a great long-term investment too.
Windows and skylights are a great way to let in some more fresh air to the property and improve the ventilation, cooling you down in the summer.
Adding this attractive feature to your home also adds value to the property, upping the resale price.
They make the room feel bigger due to increased brightness, as well as giving you a great view!
Requesting A Free Estimate
Are you interested in having a Velux window or skylight installed in your property?  Leak Proof are able to offer prospective customers an entirely free, no-obligation quote to those interested in our services.  That means that when you get in touch, we will send someone out to inspect the property and measure the area for free, as well as asking comprehensive questions about your preferences and needs.  From this information, a free quote will be generated and will remain accurate should you choose to continue with the services, so you won't come across any unexpected costs later down the line.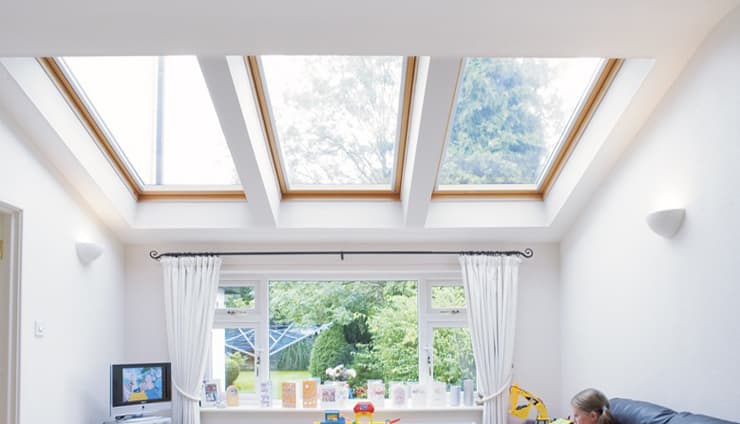 A Company You Can Rely On
Here at Leak Proof we are proud to offer nothing but the best in terms of skylight and Velux window installations for our Liverpool customers.  We have a team of highly qualified technicians who will instal the fixture into your property with a fast call-out rate and competitive prices.
We believe that good customer service goes beyond simply doing a good job.  That's why we ensure our team are friendly and respectful throughout the entire process of being in your home, as well as leaving it exactly how they found it.  Customer satisfaction is our absolute priority.
How Our Dedicated Roof Repair Experts Can Help You
All aspects of roofing repairs and new installations covered.
We will provide our customers with a free quote, which is attached to no obligations for taking the process further
We provide a

 

guarantee with all of the services that we provide
We offer unbeatable prices for guttering and gutter repair services in Liverpool
Our team is knowledgeable and professional, executing tasks to only the highest of standards
Our goal is to maintain, fix or install your roof fixtures properly, so that you do not need to keep paying for maintenance.
Do you need help? Call us to supply and fit your new Velux windows today. We will offer you a free, no-obligation quote as well as advice on how to proceed. Call 0151 374 0415
Call Us Today To Find Out More
Call our team today to get your free quote and measure, before installing your skylight and improving your home for the better!
" Professional and friendly team would 100% recommend, they had someone here 30 minutes after I had called them. Job was done to an excellent standard, will definitely be using again. Thank you for the brilliant service! "
" Very professional and beat a couple of other quotes I'd been given . Left the job very clean and tidy . I checked the work and could see it had been done to a very high standard. I would highly recommend this company and would use again. "
Other Roofing Services We Provide
All aspects of roofing repairs and new installations covered.